Wolfgang's Vault
The Doors – Winterland (San Francisco, CA) Dec 26, 1967

Advertised as "Six Days of Sound," Bill Graham set up a run of shows for six nights that culminated in one of his epic New Year's concerts. To accommodate the crowds, the venue was "the Fillmore scene at Winterland," and artists ran the gamut from Chuck Berry to the Doors and Big Brother & the Holding Co. to Quicksilver Messenger Service.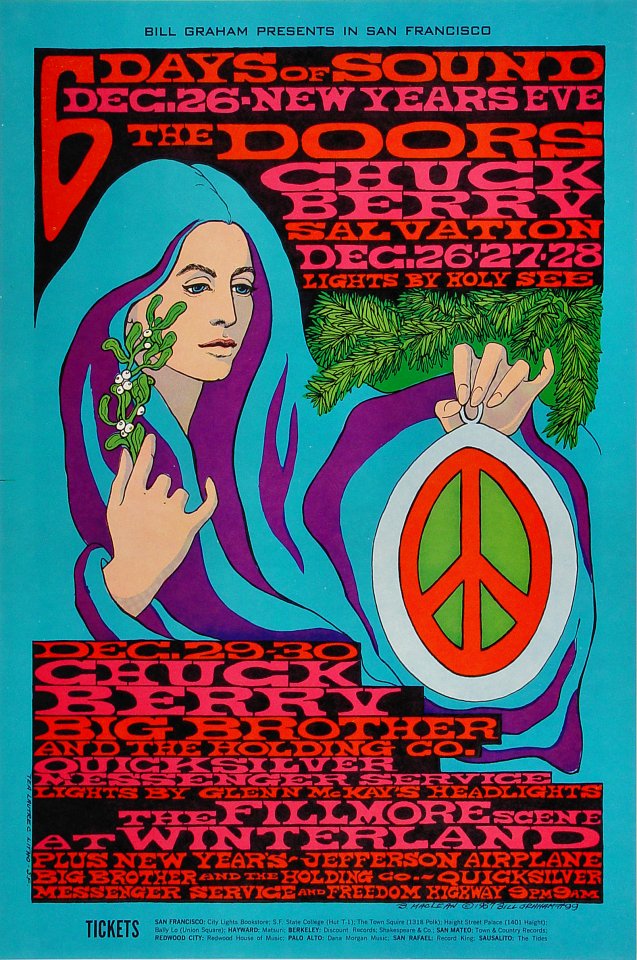 The 1st printing poster is on uncoated index, and it measures 14″ x 21 1/16″. It was printed before the concert.

In 1993, the 2nd printing poster (see BG099-2) was produced on coated glossy stock. A white balloon containing the words "The Fillmore Poster Ties" is displayed in the lower right corner. It measures 13 1/16″ x 19 1/2″.

The 3rd printing is on smooth glossy stock and has a Wolfgang's Vault notation in the lower right hand margin (not our watermark as seen in the image). It was printed in 2010 by the Bill Graham Archives LLC in a 500 copy run. This reprint measures 24 1/2″ x 37″.
This entry was posted on Wednesday, February 15th, 2012 at 10:42 am and is filed under MUSIC, POSTER ART, RETRO GOODIES. You can follow any responses to this entry through the RSS 2.0 feed. You can leave a response, or trackback from your own site.
Leave a Reply
You must be logged in to post a comment.